If you're approaching retirement and considering a change of scenery, this list of popular UK retirement destinations is just what you need.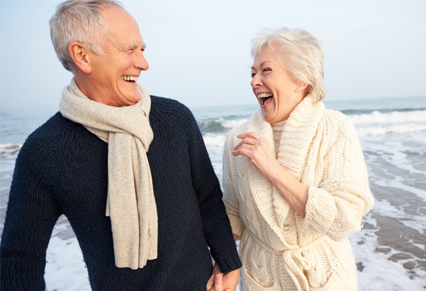 1. Christchurch, Dorset
Christchurch's beaches, harbour and historic buildings make the town a popular tourist destination, and many find the area so charming that they decide to retire there. It is estimated that just under 30% of the population of Christchurch is aged 65-plus. Christchurch is very proud of its traditions and history; the town held its first weekly market in 1149 and has held an annual regatta every year since 1909, which includes rowing competitions on the River Stout.
2. West Somerset
According to the Office of National Statistics, in 2009 the population of West Somerset had an average age of 52, and the area is always a popular choice for a retirement destination. Beautiful architecture and idyllic scenery are an undeniable draw, as are the areas good transport links and easy access to both countryside and the coast.
3. North Norfolk
Picturesque cottages, quaint fishing villages and sweeping beaches make North Norfolk a popular relocation destination for people of retirement age. It is estimated that 28.8% of the population of North Norfolk is currently retired.
4. Rother, East Sussex
The area of Rother is named after the River Rother, which runs through the district, and includes Bexhill, Battle and Rye. The area's recreational facilities, historic towns and stunning beaches are hugely popular with those aged 65-plus.
5. East Devon
A large amount of East Devon falls into one of two Areas of Outstanding Natural Beauty; East Devon and Blackdown Hills, which undoubtedly adds to its appeal as a retirement destination. The areas named as Areas of Outstanding Natural Beauty have the same level of protection as National Parks, and as a result new developments are heavily restricted, reassuring residents that the area's attractive qualities are there to stay.
6. East Dorset
Home to a number of historic market towns, East Dorset is an idyllic destination for retirement. Close to the New Forest National Park, and with easy access to the coast, East Dorset offers the best of both worlds to those who appreciate natural scenery.
7. Tendring, Essex
Including the towns of Clacton-on-Sea, Frinton-on-Sea, Walton-on-the-Naze, Brightlingsea and Harwich, the district of Tendring is a typical, coastal retirement destination, with a relaxed pace of life.
8. West Dorset
A fairly rural area, West Dorset has limited work opportunities for young professionals, and as such has become a retirement haven. In 2006 the district was named the 10th best place to live in the UK. The area offers a vast amount of natural beauty and several places of historic interest. It is estimated at 26.5% of the population is retired.
9. Arun, West Sussex
Attracted to the South Downs in the north of the area and the beaches of Bognor Regis and Littlehampton in the south, Arun in West Sussex is ever-popular with those aged 65-plus.
10. East Lindsey, Lincolnshire
The fifth-largest district in England, East Lindsey is home to endless beaches, beach huts and beautiful properties. If you're looking for a costal retirement destination with an active tourism industry, East Lindsey has a lot to offer.
If you're considering relocating for your retirement, Quick Move Properties could make your move quick, smooth and hassle-free by part exchanging your current property. Traditionally a service that was only available through new build property developers when buying a property considerably more expensive than the property you're planning to sell, Quick Move Properties – the UK's largest independent property part exchange provider – offers property part exchange in any circumstances. Whether you're upsizing, downsizing, buying a new build, moving to a retirement property, moving to a residential park home or even a boat, Quick Move Properties could help make your move stress-free.
For more information about how Quick Move Properties could help you make your move, contact the friendly, professional team on: 01793 840917 or visit: www.quickmoveproperties.co.uk
https://www.quickmoveproperties.co.uk/wp-content/uploads/2018/02/Top-UK-destinations-to-retire-to-.jpg
291
426
QMPadm1n
https://www.quickmoveproperties.co.uk/wp-content/uploads/2019/01/quick-move-properties-logo.png
QMPadm1n
2020-06-18 10:00:32
2021-10-20 08:23:46
Top UK destinations to retire to