Peace of mind with a Part Exchange House Move

You might be thinking 'what is home part exchange?' Quickmove's Property Part-Exchange service means you can make your dream move without the worry and uncertainty of selling an existing property on the open market. Enjoy a hassle-free move, with no upfront fees and no delays.
Click below FEEFO link to read customer reviews of our part exchange property service.
If you're considering our part exchange house move scheme or are looking to find out more on what home part exchange is, please get in touch with one of our experienced advisors to find out more.
"The whole process was stress-free and the best move we've ever made"
Benefits of Property Part Exchange
Our customers benefit from speed, convenience and certainty. Part exchanging your house for a park home helps secure your dream without worrying about estate agents, viewings, negotiations or the risk of a sale falling through.
Speed: With home part exchange, funds are transferred to suit your deadlines, whether completing immediately or waiting until your new home is ready.
Certainty: Enjoy price certainty for both your new home and the sale of your existing property.
Security: Once a formal offer is accepted, the sale is secured (subject to survey). Our cash funds are instantly available.
Convenience: Part exchanging your home for a park home avoids the worry and uncertainty of selling on the open market.
Support: A dedicated part exchange property consultant supports you through the process below.
Longer Stay: With home part exchange, you can enjoy an extra 2 weeks in your existing property after completion, so you can take your time moving into your new park home.
Customer Video: Buying a park home using part exchange
"We recommend Quickmove's part exchange service to customers as it removes all the worries of selling an existing property independently. No buyers withdrawing and no chains breaking down, they even allow customers two weeks to move out after completion!"
Silvano Geranio
Founder Director, Prestige Homeseeker
The part exchange house move process
View and print our leaflet explaining the benefits and process here (PDF): Part exchange leaflet.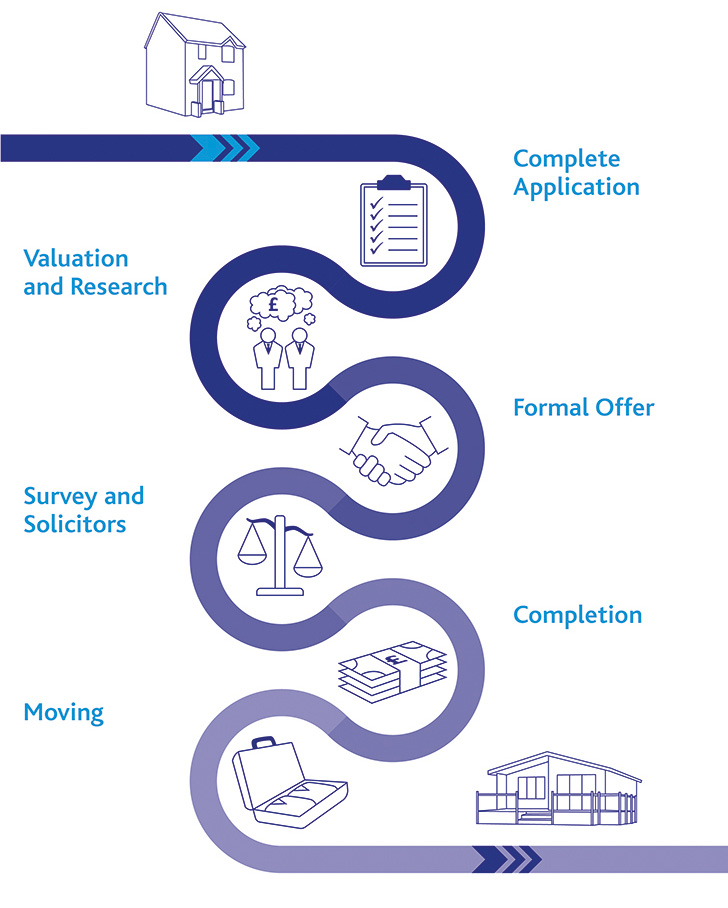 1
Tell us about your property so we can make a valuation
2
We research the area and make a desktop valuation within 24 hours. There is also a one-off viewing of your property by two local estate agents to formally value your property…
3
Our formal offer includes an outline of timescales for your move.
4
Our property experts will instruct solicitors to carry out the property survey and create the Homebuyers Report. All costs for these are covered by Quickmove.
5
Funds from the sale of your property are transferred to your bank account on the agreed date.
6
You won't need to vacate your existing property on completion day! In fact, Quickmove grant you a license to occupy for two further weeks, so you can move out at leisure!
What properties can be part exchanged?
Most bricks and mortar properties are considered for part exchange including flats, bungalows, terraced, long leasehold and ex-local authority housing. It doesn't matter how much the property is worth, previously purchased properties prices range from £20,000 to as much as £1 million.
Once you've found your dream park bungalow, we will contact you to explain the process.
If you're happy to proceed, Quickmove will instruct two independent estate agents to value your existing property and make you a formal offer within 48hrs of their response.
On acceptance of the offer, Quickmove instruct solicitors and arrange for a survey to be completed. All associated costs are covered by Quickmove, meaning there are no upfront costs.
You choose the completion date that suits your circumstances. You won't even need to vacate your existing property on completion day as we can grant you a license to occupy for two further weeks, so you can move out at your leisure!
| SELLING ON THE OPEN MARKET | MOVING USING PART EXCHANGE |
| --- | --- |
| | |
| | |
| | |
| | |
| | |
| | |
CUSTOMER VIDEO: Avoid the perils of an open market house sale
Process of buying through Part Exchange Vs Open Market
Why use Part Exchange Property Services?
Certainty
The price won't change and your sale won't fall through
Speed
Completion to suit your moving timescale, from only 4 weeks
No fees
Solicitors and estate agents all paid for, with our property part exchange services.
Convenience
No stressful viewings and two weeks to move out after completion!